MacBook Pro 2018 Throttling Bug Fix Did Not Solve, It Still Heats Up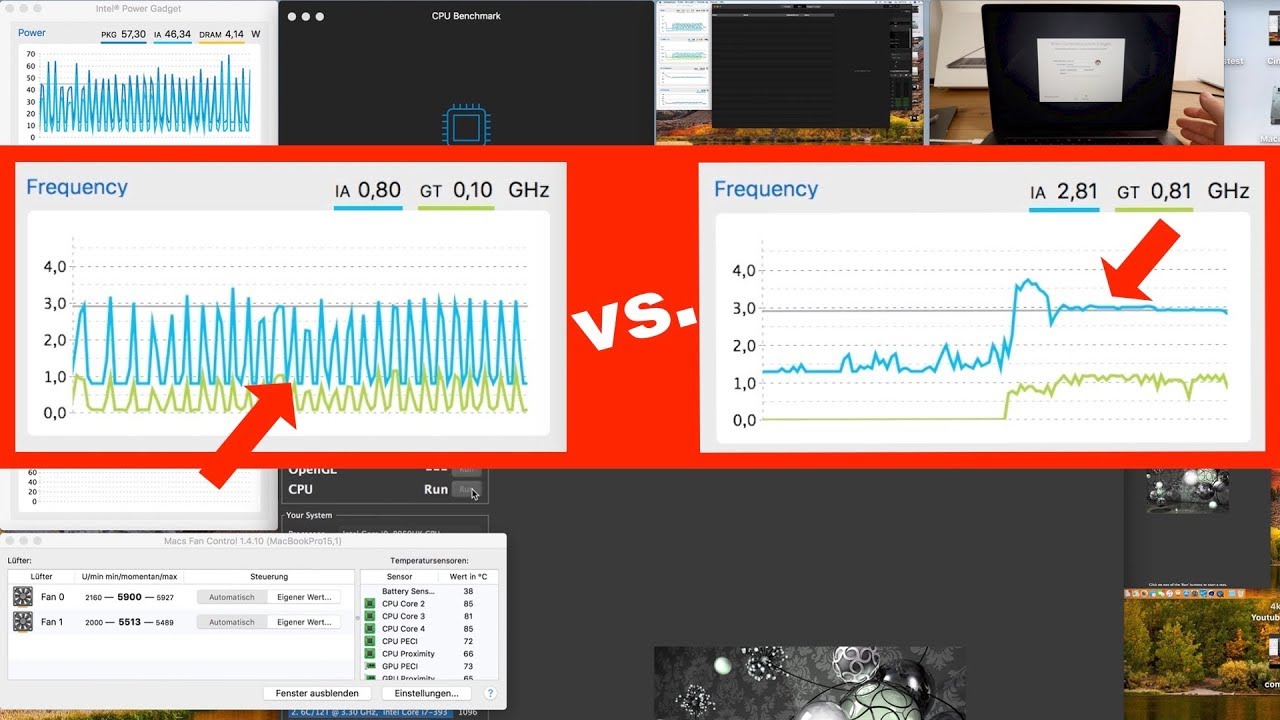 Apple seems to have solved the problem of throttling in MacBook Pro with Core i9 processor, but in front of the umpteenth bug one wonders now costs is happening in that of Cupertino.
Until Apple creates a sort of seal of trust, there's no reason to think that the launches, updates and patches of its new products will not be full of bugs and problems , some of which are so important that they become of journalistic titles (and not only on some specialized press). Here, just to understand each other, what happened in the last year at Apple: so we are definitely expecting that the MacBook Pro 2018 Throttling Bug Fix will work
iOS 11: Capital I, 12/2 restart bug
macOS High Sierra: root bug
iPhone X: displays that do not respond to touch with low temperatures
Apple Watch Series 3: LTE connectivity problems
HomePod: white rings left on wooden furniture
And these are just the bugs that have been most discussed, certainly not all those that have emerged. Fortunately, Apple is big enough to fix and go beyond these problems, but such a series of "stumbling blocks" scattered across such a wide range of products would be enough to sink some smaller companies. And while we are heading towards the biggest season of releases of Apple (the post-summer one), it is not exactly the confidence that comes to mind thinking of the new iPhone, the new Apple Watch and all the upcoming devices that will propose Cupertino.
A question of heat?
When Apple launched its new MacBook Pro a couple of weeks ago , the initial reaction was positive, as was the first round of reviews. In fact, more than a year had passed since Apple had launched new MacBook Pro and, together with an increase in maximum installable RAM (from 16 to 32 GB), Hey Siri's support and a change to the keyboard, there was a even bigger surprise for professional users: a 15-inch Mac Book Pro model with an Intel Core i9 processor. It is rare for a Mac to use processors that only came out a couple of months earlier on Windows PCs and several professionals were rightly eager to get their hands on this model.
However the honeymoon period did not last long. Just 48 hours after their availability, the expert YouTuber Dave Lee (Dave2D) discovered that the Core i9 aboard the 3800-euro MacBookPro was so heated during intensive video editing to be dropped (as performance) to Core levels i7 for long periods of time. The result was a fuss of not a little and not surprisingly Apple has immediately started to work, so much so that yesterday already has distributed a patch for macOS with the promise to solve these problems by correcting a missing digital key in the firmware. I really faith in the MacBook Pro 2018 Throttling Bug Fix.
On the one hand we must praise the rapid action of Apple. In less than a week, in fact, the technicians have investigated, replicated and launched a solution to a problem that often requires the other companies months to be solved , taking care as quickly as possible an "evil" that was likely to become a metastasis (and especially at media level). On the other hand, however, it is a serious bug that Apple should have identified and resolved before the public had the opportunity to see and talk about it.
The problem could have been due to two causes. Apple did not bother to really test its higher-end MacBook Pro with the most popular video editing software (Adobe Premiere Pro) . Or Apple knew that throttling could be a problem, but he waited to see how the effects of the real world would be widespread.
In reality both eventualities could be true. Although Apple has certainly tested its top-of-the-range MacBook Pro, this model was probably not the biggest priority to follow. Apple engineers knew without a doubt that such a thin unibody design could cause overheating problems with such an energy-intensive processor like the Core i9, but they clearly could not create a chassis for every hardware configuration. The problem seems to have been solved, but there is a more important question that is still unanswered: Apple is not exaggerating with all these problems, hardware and software?
Quality and quantity
Naturally, day one's problems when it comes to highly technological products are not new at all. For years, we have heard warnings about buying first-generation devices or downloading (as soon as possible) software updates as soon as they are available, but in most cases Apple products have generally been free of major problems.
What has changed then? Some would say that Apple has become too "busy", having to manage no less than four operating systems and five categories of products that all require serious attention (and in this list we have not counted HomePod and AirPods). Or it could be the pace of annual updates that is causing this series of problems. So did the MacBook Pro 2018 Throttling Bug Fix solve it?
But all these obstacles should now have been overcome. Apple has a lot of money and tons of resources and if it were a matter of personnel, it would simply hire more capable people to deal with the problems and any weak link in the chain would probably have been sent away or reassigned to another department or other functions.
We think rather that the problem is something more systematic because of a softening of the corporate culture of Apple compared to the era of Steve Jobs . Nobody expected Tim Cook to be able to replicate Jobs' ability to innovate, even if to say the real Apple Watch and AirPods are products that would have made Apple's father proud, but Cook has a softer and more friendly management style which is clearly not achieving the same results.
Jobs' genius was not limited to engineering and design, but also to how to motivate people. Whether for fear, love or manipulation, Steve Jobs was able to constantly request perfection and get it from Jony Ive as well as from a low-level programmer. We are not saying that Tim Cook should be replaced as CEO of Apple, but that he probably needs help.
Apple should hire or promote someone in the role of Senior Vice President of Quality Control. That manager and his team would be the only ones responsible for finding the problems (which are then likely to turn into highly popular journalistic titles) and eliminating them before they land on the market. It is also true that the problems will continue to occur (how to forget the Antennagate?), But after a year characterized by an unprecedented amount of embarrassing bugs it may be time for Apple to seriously consider the possibility of making a change to the vertices.
We have downloaded the MacBook Pro 2018 Throttling Bug Fix and man the heating still continues on the i9 unit. It did not fix it.